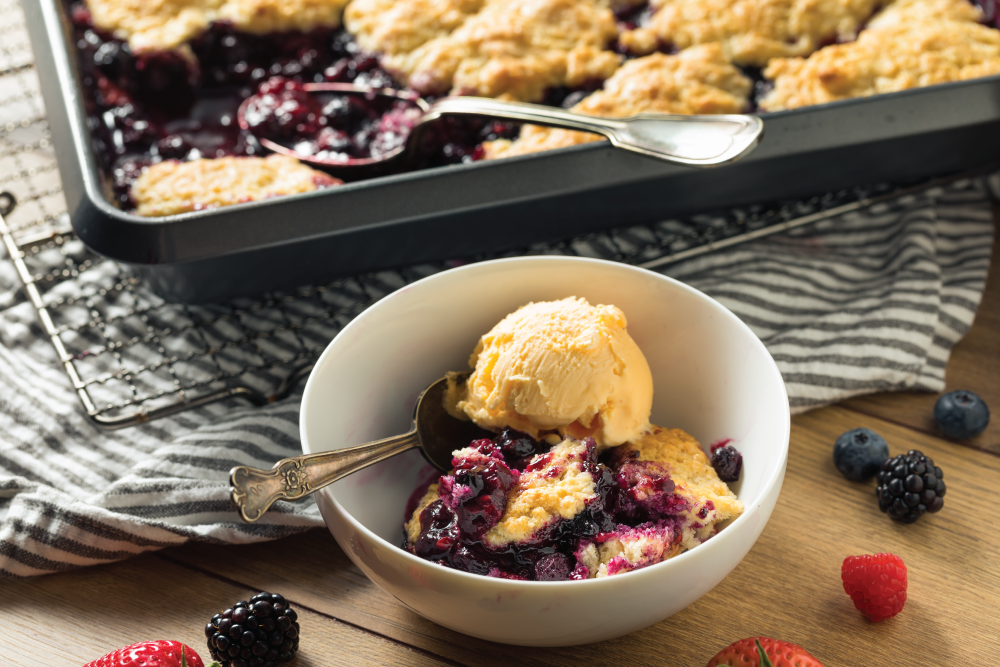 Late Summer Blackberry Crumble
August 1, 2021 8:54 am
Published by Matt Huston
Blackberries and all kinds of berries grow prolifically here in Idaho. In fact, if you live in the Pacific Northwest, it's almost a requirement to love blackberries. However, no matter where you live, we promise you will love this blackberry crumble recipe.
Nothing reminds us of late summer more than a Blackberry Crumble. Even if you've never baked from scratch before, you will find this recipe simple to pull off.
PRO TIP: You can always swap out or add other berries to this crumble!
Prep Time 10 mins | Cook Time 40 mins | Resting Time 15 mins | Total Time 50 mins
Servings: 8 people
INGREDIENTS
Fruit Filling:
6 cups fresh blackberries
1/3 cup all-purpose flour
1/3 cup granulated sugar
Crumble Topping:
2/3 cup old-fashioned oats
1/2 cup dark brown sugar
1/4 cup all-purpose flour
3 tbsp butter, softened
1 tbsp vegetable oil
1 tsp ground cinnamon
1/4 tsp table salt
INSTRUCTIONS
Preheat oven to 375 degrees F.
In a large bowl, gently combine blackberries, sugar and all-purpose flour. Transfer to an 8 x 8 baking dish.
For the crumble topping, combine all ingredients in a medium bowl and work together with your hands until the ingredients resemble a crumble.
Sprinkle the crumble topping over the blackberry mixture. Bake crumble until the topping is golden brown and blackberries are bubbling, about 40 minutes.
Let cool for 15 minutes before serving. Serve warm or at room temperature, with ice cream if desired.
ENJOY!
This and other recipes can be found at Nobelpig.com
Categorized in: DIY
This post was written by Matt Huston